Campus Vision
We have begun an exciting journey to reimagine
the use of our church building
and the surrounding campus.
A NEW VISION FOR OUR CAMPUS
First Presbyterian Church of Bethlehem is shifting its missional focus to explore possible uses of our vast resources — the building and the wider campus — to meet our community's critical housing needs.
Doing so will have significant, positive community impact, and it will also offer the church long-term financial sustainability to continue offering ministries of expansive welcome, cultivating spiritual nurture and community for all ages, and serving our most vulnerable neighbors.
As a result, we are working on two projects :

The Creating Partnership project is focused on establishing a partnership with a long-standing local nonprofit partner who will co-locate with the church in our existing facilities.  Adaptively re-using the South Building in this way will provide a consolidated location for our nonprofit partner to offer support services and housing security for the families they serve.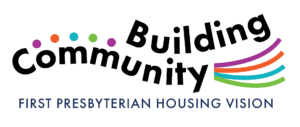 The Building Community initiative is an endeavor to create a vision for the future of the property through a community-engaged planning process. The church selected COLLABO and Urban Ventures to lead this planning process alongside us and to ensure that it is inclusive, iterative, and centered on building trust and capacity for the next chapter of the church's story with a strong focus on mixed-income housing.
The church plans to retain ownership of its property and pursue development as a joint-venture partner in the project; this will help ensure that the vision is implemented as intended and that the property continues to be managed well.