Easter takes awhile to get to where it's going. We generally forget that; we forget that Easter begins while things are still dark, with Mary in the garden near the tomb, weeping, because she has lost Jesus. Twice, actually; she has lost him once to death, and once to wherever his body has disappeared to.
And in some ways, I suspect the second was even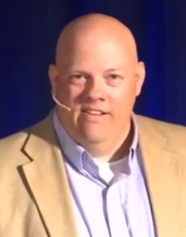 more upsetting than the first. It's bad enough to watch the Roman state punish Jesus with crucifixion for being a threat, but the anxiety of simply not knowing what has happened to him when found the tomb empty on Sunday morning was probably even worse.
You know that recurring nightmare that many parents have about losing track of your child in a crowd? That actually happened to me once. My son Liam was about five years old and we were living in New York City at the time. We were shopping in a place called Chelsea Market, a renovated industrial site in downtown Manhattan with lots of shops, food stalls, and so on.
It's always very crowded, and as we were making our way through the bustling corridor between shops, I glanced down next to me and he wasn't there. I pivoted to see if he was behind me: there was just another shopper scowling at me for having stopped on a dime as she then brushed past me. "Liam?" I said, pivoting in the other direction, striving not to panic. Nothing. Realizing that he was definitely not near me, it was time to throw caution to the wind: "Liam?!?" I shouted; "Liam, where are you???" I yelled, ignoring the startling looks of people around me who either couldn't figure out why I was acting that way, or knew exactly why I was acting that way.
I strode backwards quickly against the stream of shoppers like an icebreaker ship in the Arctic. "Liam?!?!?" I shouted again, and finally I heard him: "Daddy?? Daddy!!" I pushed through a few people and there he was, not far from the window of the last store that we had shopped at, less than ten yards from where I had realized that he wasn't with me. I ran to him and scooped him up in my arms and held him tight for a long time. After a good while of clinging to each other, I asked him if he was ready for me to put him down. He nodded. "But I'd like to hold your hand the whole time until we get out of here, ok?" I asked; "I want to make sure I never lose you again." And even though he was a very independent kid, he agreed.
I can't imagine a more natural thing in the world than holding on tightly to someone you love that you had lost but has now returned to you. In every movie or story or real-life experience, when someone is reunited with someone they love who has been missing or presumed dead or even just escaped a life-threatening situation, they cling to one another in joy and relief and thanksgiving, often laughing and crying at the same time as they do because of all the different kinds of emotions that they are experiencing simultaneously.
And above all of that, they are filled with gratitude that the nightmare that they had been living is over, and that they could finally return to something like normal life, something like whatever they had before, that they intend to hold onto more tightly than ever.
All of that makes Jesus' reaction to Mary Magdalene when she finally recognizes him, telling her not to hold onto him, puzzling. Mary has lost Jesus. When almost everyone one else stayed at a distance or ran away after his arrest, Mary stayed close; when Jesus was being crucified, only Mary Magdalene, one disciple, and Jesus' mother and aunt remained with him. And here, on Easter morning, Mary comes to Jesus' tomb before the sun has even come up.
But when she arrives, she finds something unexpected: the large stone sealing the tomb had been rolled away. Mary then runs to Peter and "the disciple whom Jesus loved;" in other words, the two most prominent disciples of Jesus other than Mary herself. This is not a joyful errand; Mary does not conclude from the open tomb that Jesus is alive, but rather that someone broke into his tomb and removed his body: "they have taken the Lord out of the tomb," she tells them, "and we do not know where they have laid him." Peter and the other disciple run to the tomb to see what Mary is reporting for themselves.
They confirm that the tomb is empty, and then they return to their homes, resigned to yet one more loss. But not Mary. Mary doesn't go home; she stays right where she is, weeping in the garden where Jesus was supposed to be buried. Because if you didn't go home in resignation, that is what you would probably do, too; stay in the last place that someone you loved had been, weeping over them being lost.
That grief is honored by the three persons whom she encounters in the garden, despite them already knowing that Jesus has been raised from the dead. First, she encounters two angels, who immediately ask her, "why are you weeping?" They don't ask that in the sense of, "why are you weeping, because you shouldn't be." They ask it in the sense of acknowledging her grief as real.
And then they don't try to talk her out of it or explain it away; they let her express her grief and listen with respect and sympathy. So, after receiving that gift from the angels, Mary explains that she is weeping because someone has taken Jesus away and she doesn't know where. Then she turns and sees Jesus without recognizing him, who echoes the angels in asking why she's weeping and honoring her grief.
Jesus doesn't pretend like bad things haven't happened, or that they don't matter because everything is ending "happily ever after" because he's alive again. He gives Mary the opportunity to voice what she is feeling and experiencing, and only then does he call her by name and she realizes who he is and what has happened.
It seems like a small thing to trigger such an astonishing recognition: simply saying her name. But calling someone by name is one of the most powerful things we can do. You can hear someone calling your name through all kinds of interfering noise, so strong is the response to it. As a child, when you hear your parents call your name loudly and sharply, you can hear it from far away and know that you are in trouble.
And when I lost Liam in that market, my immediate response was to call his name over and over again, louder and louder, and to listen for him as the only person in the entire world who calls me "Daddy." That is how we found one another again: through calling each other's name, recognizing and finding each other and holding on tight to one another, afraid to let go again.
It's only natural that Mary would have done the same thing. After all, she did not lose Jesus for three minutes in a crowd; she lost him for three days to death itself, and then thought she had lost him again to some tomb robber. She must have done so, because Jesus responds, "Do not hold on to me." That might sound cold with the wrong tone of voice; an older translation used to simply say, "Don't touch me," which sounds incredibly insensitive under the circumstances.
But that's not what Jesus is saying. The word for "hold on" means to cling, fasten, or grasp; it has the sense of holding something or someone in place, not simply touching them. That is still quite understandable on Mary's part: now that Jesus has shockingly, miraculously returned from the dead, she wants to hold him there with her, hold on to what she has; the last thing she wants to do is let him go and risk losing him again. Letting go is always a big risk; who knows what will happen next?
There's a wonderful scene about this in the animated film, Finding Nemo, probably my favorite film that Pixar has ever made. The film is set among the creatures of Australia's Great Barrier Reef, and it actually begins with a tragedy: two clownfish have just laid their eggs when a barracuda appears and attacks, knocking the father, named Marlin, unconscious, who awakens to find his wife and all the eggs missing, except one, which he names Nemo.
When that one egg hatches, Marlin becomes an extremely over-protective father, constantly terrified of losing Nemo to even the smallest risk. The child clownfish, as you might expect, resents this behavior and breaks the rules one day to swim well away from the reef to explore a speedboat that has anchored nearby, and ends up being captured as a pet by a scuba diver.
Marlin, horrified, tries to follow, but the boat of course speeds Nemo away, which then begins an odyssey of Marlin pursuing clues about Nemo across the ocean with Dory, a well-meaning but addled fish that agrees to help him, through many dangers and adventures to find Nemo, whom they have learned has been taken to Sydney, Australia.
At one point, Marlin and Dory get accidentally swallowed by a large whale while it's feeding and trapped in its mouth, and there seems to be no escape. As time passes, Marlin begins to despair, but Dory claims to be able to speak whale and starts trying to ask their unintended host what's happening. The whale responds with loud unintelligible noises and then suddenly the water in its mouth starts to drain. Dory claims the whale is saying to move to the back of its throat, and Marlin concludes that it is simply trying to eat them.
As the water drains, the two fish teeter on the precipice of the whale's throat, with Marlin desperately clinging to the whale with one fin and Dory with the other, who dangles suspended in the air. The whale says something, and Dory looks at Marlin. "He says it's time to let go," she yells; "everything's going to be all right!" Marlin stares back at her in terror. "How do you know? How do you know something bad isn't going to happen?" Dory considers that for a moment. "I don't!" she finally replies.
Marlin looks at her, and then down below her, and then at her again, and for the first time in his life, agrees to let go. They plunge down into the whale…only to be blown up out of its spout to freedom, right outside of Sydney Harbor, exactly where they need to be. They are alive, hope is revived, and the story is far from over.
It is that hope and that promise that Jesus is giving to Mary in this moment: he is alive, hope is revived, and the story is far from over. The good news of Easter isn't that things can finally go back to normal, and that we can keep it that way if we hold onto it tightly enough; the good news of Easter is that what was normal is being remade and redefined into something truly good.
Easter is not a happily-ever-after ending; it is a joy-filled and hope-full new beginning. Here in the garden with Mary, Jesus is just getting started. That is why he tells her not to hold on to him; it is time to let go, he says, time to move forward into the promise of abundant life that Jesus came for all of us to have, an abundance that cannot be diminished or curtailed by any power or circumstance on this earth, not even death itself. Jesus has yet more to do, and his followers have more to do with him.
That is why he sends Mary forward as the first apostle: the apostle to the apostles, as some Christian traditions call her, because it is she who bears the good news to those who become apostles, and the word apostle simply means, "one who is sent." And you cannot be sent elsewhere if you are holding on to what you have.
But how do we know? How do we know something bad isn't going to happen? Well…we don't. The promise of Easter is not that something bad will never happen; no, it is much, much better than that. The promise of Easter is that no matter what happens, there is nothing, nothing in heaven or on earth, that can separate us from God's love, that can push God out of this world, that can keep the ultimate good that God is always with us and for us from happening.
Christ's resurrection does not mean that bad things no longer happen; it means they no longer get the last word. Easter is about Christ coming down into the midst of the world in all its beauty and brokenness, receiving the worst of it through rejection and death, and coming out victorious on the other side.
As we gather today to celebrate Easter together in person for the first time in three years, I think have a better sense of the power of that promise than many of us have ever had. Because the truth is that there are bad things that have been happening in the world the whole time. But the greater truth is that the seeds of resurrection are sprouting up all around us, which we can see and cultivate and harvest if we let go of trying to hold on to what we have, and embrace what God is giving to us even now: new life, and hope, and steadfast love; more than we need; more than we can hold; more than we can imagine; more than anything can stop or change. Because Christ is risen; he is risen indeed!