A MESSAGE FROM THE REV. LINDSEY ALTVATER CLIFTON: Connecting the Dots
Somehow it's the start of September!  In the heat of summer's days, time can feel like it's moving awfully slow, but here we are… already on the cusp of fall.
As I've mentioned previously, the program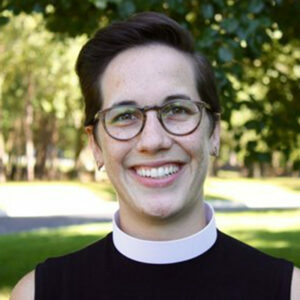 committees of the church have been hard at work together in creating a calendar for the fall.  Each month since the late spring, those four committees (Discipleship, Mission, Congregational Life, and Engagement) have been meeting jointly to brainstorm, dream, and plan together about what might be possible with greater collaboration and connection.
The result of their efforts is a really wonderful, fun, and meaningful set of programs that are aimed at Connecting the Dots:
Connecting the Dots among individuals here at First Pres.
Connecting the Dots between our church and the wider community.
Connecting the Dots between mind, body, and spirit.
Connecting the Dots between faith and action.
Connecting the Dots among all ages.
Connecting the Dots between ourselves and God.
Connecting the Dots between our creativity and playfulness and our spirituality.
This theme has guided our vision for deepening the connection we feel to one another, our faith, and our community.  We hope you'll make time to join us for some of the upcoming events!
Sunday, September 11 at 8:30 a.m., our adult faith formation group Hearts N Minds begins again
Monday, September 19 at 9:30 a.m., our fellowship and learning program Hi Neighbors
Friday, September 23 at 5:00 p.m., we'll gather for a "Bring Your Own" Picnic community get-together with friends from our Preschool and Kirkland Village to learn more about Chimney Swifts and see their fascinating seasonal nesting practice in our chimney
And following worship on Sunday, September 25, we'll dedicate our church's COVID-19 Memorial and enjoy a potluck lunch and good fellowship
More information about these programs (and all the other great opportunities for the fall) will be shared in coming weeks, so keep an eye on the newsletter and bulletin for additional announcements.
I'm looking forward to Connecting the Dots with you, friends. It is good to be God's people together! 
Blessings,
Lindsey