A MESSAGE FROM THE REV. J.C. AUSTIN: LOST OR BEWILDERED?
As you know, we're in the middle of a sermon series in worship called "On the Way," that is exploring different aspects of what it means to be followers of the Way of Jesus Christ, which is what Christianity was called in its earliest stages, as we can see in different places in the book of Acts.
The image of "the way" is a rich metaphor, as I mentioned last Sunday, and so it's not surprising that there are multiple paths and side-trails that can't all be explored in a single sermon, so I thought I would pick up one of those from last Sunday in this article before we continue down the path of the series.
One of the things we were exploring is the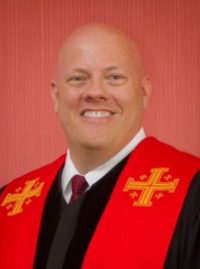 surprising reality that a dead-end on the way or path we are following can be a good thing. It forces us to take stock of where we are, where we've come from, and where we are trying to go, and to figure out if we are lost or if there is a new direction, a new development on our way, that can lead us forward.
Because of both the Scripture and the main point of the sermon, we focused on finding that new direction that can help us get back on the way, and I talked about how I think that's one of the most important roles of the Christian Church: to be a waystation where people can find sustenance and community and insight that will help them on their journey of faith.
But what about when you really do feel like you might be lost? It can be very hard to tell the difference between not yet having found the new direction to lead you on your way, and actually being lost. Some of that difference is philosophical. I've always loved the reflection that Daniel Boone gave about whether he'd ever been lost; Boone was a literal trailblazer in the late 1700s who created the Wilderness Road for English-speaking settlers to cross the Appalachian Mountains through the Cumberland Gap, so he knew quite a bit about finding his way and creating a path. Boone said, "I can't say as ever I was lost, but I was bewildered once for three days."
That is actually the most important distinction: are you lost, or are you bewildered? I think it's relatively rare in our life and faith that we truly get lost, literally and utterly unable to orient ourselves and get back on the way. Most of the time we are "bewildered:" there is a way forward, even multiple ways, but we haven't recognized it or aren't confident enough in it or in ourselves to follow it.
This is why I've always found John 14 to be one of the most important passages in Scripture, and why it's especially always my personal preference for a text at a funeral or a memorial service. Jesus is having the Last Supper with his disciples; he tells them not to be troubled, that he is going to prepare a place for them in God's house and will come back and take them there with him, and that they know the way to where he's going.
A "bewildered" Thomas protests that they don't know that, and Jesus replies, "I am the way, and the truth, and the life." That's an extraordinary promise, so much so that it is thought to be one of the main sources for Christianity first being known as "The Way," because Jesus is the Way that Christians follow. And it is so extraordinary because it means that we don't find the way to God, but in Jesus Christ, the way finds us, no matter how bewildered we may be.
And that, in turn, is the very essence of God's grace: that we are saved not through our own efforts to get to God, but because God comes to us in Jesus, and takes us to God simply because God loves us so much. That is not just good news; it is the good news, and as we continue our journey on the way of Jesus, let it always guide our steps and strengthen our bodies and spirits!
Grace and Peace,
J.C.