A MESSAGE FROM THE REV. J.C. AUSTIN: EMPATHIZING WITH OUR NEIGHBORS
One of the most popular board games ever created would have to be Monopoly. I'm willing to bet that almost all of you have played it at some point, but let me refresh your memory.
The game involves groups of "properties" that hold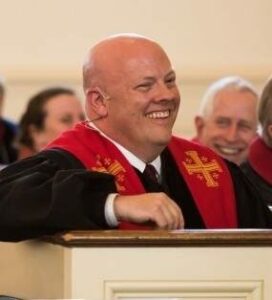 increasing amounts of value the further you go in a clockwise direction from the "Start" square. The property groups are identified by color, and there are generally three of them to a group.
The goal of the game is to acquire as many property groups as you can, which is called a monopoly, because when players land on a property you own, they have to pay you rent, and if you have a monopoly, you can develop the property with houses and hotels and then charge more money for landing there, to the point that you can drive another player into bankruptcy even if they only land on one or two of your properties within a short time.
And that, ultimately, is the goal of the game: to destroy all your opponents economically so that you are the only person left who is solvent. It would be hard to argue that it is a morally commendable game (nor economically, for that matter; destroying the market is a very short-term victory!). However, it is an entertaining one, as its huge and lasting popularity attests.
The irony of that is that the game was created not to glorify such a goal, but to illustrate both the problem of such a goal and a potential solution to it. The game originated in the form of something called The Landlord's Game, created by a woman named Lizzie Magie in the early 1900s, who wanted to teach people about the devastating consequences of land rental monopolies on renters and the larger economy as a whole.
To do so, she created a game with two rounds: one played more or less under the rules of what we know as Monopoly, and one under rules designed to illustrate the positive effects of more widely shared land ownership. She patented the game and it began to spread in popularity by word of mouth. She tried at one point to sell it to the Parker Brothers game company, but they declined.
As time passed, though, a man named Charles Darrow was introduced to the game, loved it, and began distributing it himself with one major change: the deletion of the second round. He named the shorter game Monopoly, claimed it as his own invention, and sold it to Parker Brothers, receiving both a patent and copyright in the process, and cutting out Lizzie Magie from any credit or royalties.
Despite the injustice done to Magie in this process, her conviction that games could be used as teaching tools was both innovative at the time and created a lasting influence to this day. My generation famously played an early computer game in school called "Oregon Trail," which illustrated the challenges and difficult decisions facing those who sought to settle in the Oregon Territory.
During the quarantine phase of COVID-19, my son Liam and I played a game on my iPad called Pandemic, based on a board game of the same name, in which you work cooperatively rather than competitively to try and contain a global pandemic and work on a cure. It was a bit shocking how much we learned about epidemiology and virology from that game!
This Sunday, we as a congregation are going to play a game in the spirit of Lizzy Magie called "The Game of Rent." We'll be gathering after the 11 a.m. Traditional Service, and the game is designed to show us what it is like to try and manage the rising costs of housing in the Lehigh Valley while attending to other economic needs. The game uses up-to-date demographic data from the Lehigh Valley, so it is a very accurate depiction of the trends and difficulties facing ordinary people who are not able to own property in this moment.
It will be a very engaging and educational experience, and I urge people of all ages to come and participate so we can learn more about what our neighbors are going through and think more clearly about how we can love and serve them in Christ's name more faithfully and effectively. I hope to see you Sunday!
Grace and Peace,
J.C.
FOR SUNDAY: We will offer a light lunch after the Traditional service (approximately 12:15 p.m.) and then play the game. Gather in Fellowship Hall. Please let us know if you are planning to attend, so we can make arrangements (but if you don't RSVP you are still welcome to come): register online at bit.ly/3yG2IC6 or call 610-867-5865. Appropriate for middle school and older.