A MESSAGE FROM THE REV. LINDSEY ALTVATER CLIFTON: TAKING THE FIRST STEPS
Dear ones,
Next week, we begin the first steps in our campus planning and community engagement process alongside our partners from Collabo and Urban Ventures!  We've named this planning endeavor "Building Community" as a nod toward its primary goals—creating connections among folks within and beyond our congregation, and (hopefully, one day) fostering some new expression of built community around us.
Adam, Patrick, and Mehvish from Collabo and Anne from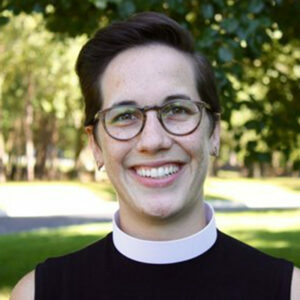 Urban Ventures will be in town for several meetings on Tuesday and Wednesday.  Tuesday morning, we begin with an internal team meeting and site tour (including walking a bit into the surrounding neighborhood), followed by a team lunch. 
Then we're hosting three small group Listening Sessions that afternoon with select church members and the neighbors in closest proximity.  Leaders from Kirkland Village, Bethlehem Catholic High School, Wesley Church, and the residents directly across Center Street and down the Laros Estate private drive have all been invited to attend.  I enjoyed meeting some of our residential neighbors while delivering the information and invitations, and I look forward to connecting in person with staff and leaders from our institutional neighbors!
Tuesday concludes with the congregational Meet & Greet from 5:00-6:00 p.m. in Fellowship Hall with Happy Hour refreshments to be served.  While it's an informal drop-in event, the time to get to know our consulting partners and share ideas or concerns at this conceptual stage is important.  All are welcome and I hope you'll make plans to come! 
Then on Wednesday, we're meeting with the staff from the City of Bethlehem's Zoning and Community and Economic Development offices before wrapping up our time together.
Next month, we anticipate having a public, community-wide survey ready to launch as a tool to start gathering input on various elements that folks would most like to see incorporated into the mixed-income/mixed-use campus plan.  We'll also likely be holding our first large community meeting, as well!
As we take these first steps, I want to reiterate the Steering Committee's openness to hearing your questions and concerns.  Making space in this process for folks to express their worry or skepticism or even opposition is essential for deepening our ties and strengthening our faith.  (It also positively impacts the project itself, which is exactly why we're utilizing a community-engaged planning process!) 
If having such conversations in public meetings or even small groups feels challenging, please know that my door (and inbox – lclifton@fpc-bethlehem.org) are open.  With humility and gratitude, I will welcome thoughtful dialogue and differing perspectives on this undertaking, and I will make time for as many one-on-one conversations as it takes to navigate this with all the togetherness and unity we can muster. 
I know the members of the Steering Committee share this commitment, so if you have a trusted relationship with another member of the team, please know that you can reach out to them, as well.  This is what is means to be and build community, after all.
Together in Christ, and with blessings for the road ahead,
Lindsey