A MESSAGE FROM THE REV. J.C. AUSTIN: HELPING PEOPLE JUST AS THEY ARE
As you all know, we as a congregation are in a significant ongoing conversation about our mission strategy as a church, and more specifically how we can use our facilities and property to extend and expand that mission in a financially sustainable way. While nothing has been decided yet, it is likely that this will include both long-term initiatives and shorter-term agreements with community partners.
The Mission Strategy Steering Committee continues to work hard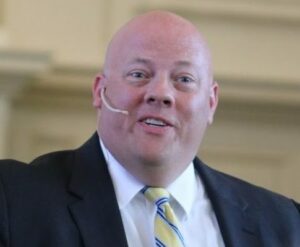 on these issues, and will be sponsoring its next congregational gathering as a "Lunch and Learn" on Sunday, June 4, after worship. Details for that gathering will be coming.
At the moment, though, I want to highlight our most recent partnership, which is sponsoring a meeting of Alcoholics Anonymous here at our church facilities on Thursday nights. This church already has a longstanding commitment to an explicitly Christian substance abuse recovery group, Overcomers Outreach. In fact, we will be having a Minute for Mission in worship at the end of June to highlight that group's 30 year ministry here at First Pres.
Alcoholics Anonymous ("AA") is a spiritually-grounded program that is built around alcoholics helping one another recover from their addiction, but it is not specifically Christian. So why would we do both? Well, to put it simply, because that's what Jesus did. Jesus healed people of diseases and exorcised demons, and while he commended some of them for their faith, he did not require them to make a specific faith commitment in order for him to care about them.
Rather, he helped them just as they were, simply because they needed help, and it was in tending to their need that he proclaimed the nature of God's kingdom: a community of restoration and reconciliation, of life and love and hope, through the power of God's love and grace in Jesus Christ. And so we do that explicitly through Overcomers with those who identify as Christian, and we do it now implicitly by using our facilities to support AA, thus enabling us to care for a greater number and range of people in Christ's name than we could if we only supported one.
As I thought about all this, I came across a powerful poem that I think gives wonderful insight; it is called A Hymn to Church Basements. We, of course, do not have the stereotypical church basement beneath the Sanctuary that is typical of a small church, and the poem is geared more towards the specifics of Narcotics Anonymous, but I think it captures not only the power of these recovery programs but also why they have historically been partnered with churches.
I invite you to read it and consider it not only in terms of these partnerships, but the unexpected ways in which the less obvious places in church buildings can be spaces of profound ministry and healing and even, as the season of Easter prepares to draw to a close, of resurrection:
This world loves a grand cathedral:
its righteousness and pulpit,
purported sanctuary of redemption,
holy spire & stilled saints,
history of fire & painted glass.
Pews where congregants pray & worship,
troubled by questions they hope someone
has answers to.
They wait on their knees to be forgiven. 
But where are the songs of praise
for church basements?
That lower level, that rock bottom room
sunken & reverent with flickering lights,
water-stained ceilings & coffee-stained carpets,
its full moon of chairs that appear
every night at 8:00 because a crackhead
made a commitment?
People don't kneel in church basements.
Instead, we squat against walls
& stand arms crossed in doorways.
We sit slouched & messy, look each other in the eyes
say, I am an addict and I don't want to die
& oh God, is this not a kind of miracle?
I prefer my angels banged up & salty,
chubby from eating cookies instead of shooting dope.
They pull splinters from their wings
hug the newcomer too tightly,
shake their heads at me when I don't raise my hand to share.
No matter how tough I try to look, no matter how long it takes,
they say keep coming back kid.
Tonight, the addict who overdosed last month,
the one who had to be revived with Narcan,
is making the coffee.
– Joan Kwon Glass
Grace and Peace,
J.C.