A MESSAGE FROM THE REV. J.C. AUSTIN: Make a joyful noise!
Friends, as we continue with our Summer Worship plans, I want to double back to all of you about something we mentioned as we began this experiment.
One of the things we are trying to balance in Summer Worship is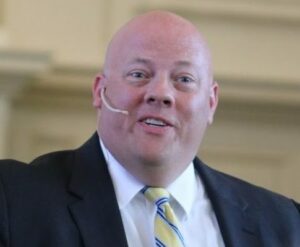 exploring new ways of engaging in vibrant worship along with cherishing the practices that have been most important to us over time. Obviously, one of the places that both of these dynamics are experienced is in our worship music.
In the Presbyterian tradition, most things in the worship service are one-time experiences. Unlike our friends in Catholic or Episcopalian traditions, we do not have prescribed prayers that get repeated verbatim over and over again, aside from the Lord's Prayer. Sermons, obviously, are always changing in their content, even when they are based on the same Scripture passage.
But music, and particularly congregational singing, is the place where we periodically engage in true repetition, offering the same particular hymns and songs in worship to God as we have done many times before.
What we choose for congregational singing in worship is never random; like everything else in the service, songs and hymns are chosen because they resonate with the particular themes of worship that day, that are set by the Scripture for the day and the sermon based on that.
However, some of the hymns and songs we choose have a broad resonance with the biggest themes of the Christian gospel: grace, love, hope, faith. And so they are appropriate for use in many services and get chosen more often.
I also don't think it's a coincidence that many of those hymns and songs are also our "favorites" to sing, because they embody those building blocks of the gospel with beauty and truth and power. They speak to us, and they help us to express our faith to God, which of course is the whole point of worship in the first place!
With all that in mind, we want to invite you to let us know which hymns and songs are the ones that help you express the basic elements of your faith: the ones that make you sing a little louder and a little bolder when they show up in worship, the ones that sum up some of your most important feelings and beliefs about God and help you connect with the Holy Spirit most powerfully in worship.
You can submit the titles of hymns and songs that you would like to sing in Summer Worship in two ways. First, you can utilize this online form. Second, you can simply email David Macbeth, and he will collate the replies there with the online responses.
While we probably will not be able to include every submission, the ones that are submitted the most will be included in at least one service this summer, if not more. So, we look forward to hearing your ideas, and to making a "joyful noise" with you in worship this summer!
Grace and Peace,
J.C.