A MESSAGE FROM THE REV. LINDSEY ALTVATER CLIFTON: Reflecting God's light and love
I have a go-to playlist (think digital mix tape) for when I'm feeling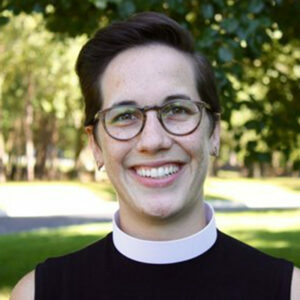 a little wandering or weary in my faith or my ministry; the nine songs on it often help me find solid ground again and remind me of our calling to be people of community, people of shared hope and resilience, deep love, justice-seeking and good trouble-making.
Needless to say, I'm listening to it often these days with so much swirling in the world around us.  Recently, I noticed the words to one song in particular all over again, as if it was the first time I'd heard it.  A Beautiful Noise by Brandi Carlile and Alicia Keys begins and ends with these words:
I have a voice
Started out as a whisper, turned into a scream
Made a beautiful noise
Shoulder to shoulder, marching in the street
When you're all alone, it's a quiet breeze
But when you band together, it's a choir of thunder and rain,
now we have a choice 'cause I have a voice
It's an anthem about what's possible when we collectively offer our individual hearts and hands and voices to the common good:
You've got to put one foot in front of another
With a hand in a hand holding on to each other
Go on and rejoice 'cause you have a voice
It is loud, it is clear
It's stronger than your fear
It's believing you belong
It's calling out the wrong
If you want to check out the whole song, you can see and hear Keys and Carlile perform it here.
Of the nine songs on my playlist, only one is a piece of church music; the rest are "secular" songs with a whole heap of spirit.  I'm curious about what songs might be on your playlist – real or imaginary.  What pieces of non-churchy music uplift and encourage you, remind you of what life and faith are all about, bring you peace, remind you of who you are?
May we not forget that though the church is God's (not ours), the church is certainly not the only place God shows up!  By the power of the Holy Spirit and in the way of Jesus, there are other communities and other places (often without any buildings at all) that reflect God's light and love. And sometimes they are more church than church.  I know I've been to church at an Indigo Girls concert; by the Guadalupe River in the Texas hill country; around a restaurant table full of chips and salsa, margaritas and friends; in belly-deep laughter with our Afghan friends.
May we be willing to see and hear and learn from God no matter where God shows up!
Blessings for the journey,
Lindsey