A MESSAGE FROM THE REV. J.C. AUSTIN: LOOKING AHEAD TO CHRISTMAS EVE
I am so grateful that we will have the option of being back together in person for worship on Christmas Eve this year! It's been two years since we've been able to do that, and there are a few new elements of our services this year, so I want to take a moment to explain what will happen in each and all of our services that day.
We will have three services on Christmas Eve, all in the Sanctuary and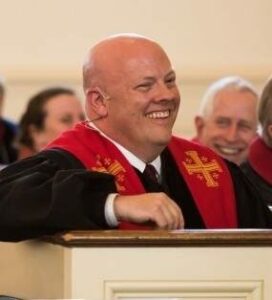 available by livestream: an Intergenerational Candlelight Service at 4 p.m., a Traditional Candlelight Service at 7 p.m., and a Candlelight Communion Service at 11 p.m.
As you can probably tell from the titles, that means that all three services will have a candlelight liturgy to them while singing "Silent Night," as is our tradition. The wrinkle this year is in extinguishing those candles at the end of the service; since masks continue to be necessary for worship services, we can't just blow our candles out! Instead, we will have snuffers available for every two pews at each service to extinguish the candles, and we will remind you about that during the service itself.
The Intergenerational Service represents the biggest change from previous years among the three services. The 7 p.m. Traditional Candlelight Service will continue to have traditional liturgy and music, with a "lessons and carols" format and a brief sermon followed by the candlelighting service. It will also feature selections from our musical guest ensemble, the Hill to Hill Brass Quintet.
The 11 p.m. Candlelight Communion Service will once again have carols and Luke's version of the Christmas story, along with the same sermon as at 7 p.m., followed by the sacrament of Communion and candlelighting.
The 4 p.m. service, however, has been intentionally shaped in terms of both music and liturgy to be more accessible for children than in previous years. Most notably, instead of a sermon, there will be interactive storytelling and even a special (and simple!) activity that children can do in their seats as part of the service. This is a great opportunity for families to worship in a meaningful and engaging way together on Christmas Eve, so please spread the word to any neighbors and relatives who might be interested.
Between now and then, though, I encourage you to begin the week leading up to Christmas with the Christmas Joy Concert that will be held at 4 p.m. in the Sanctuary this Sunday, December 19. It will also be available to livestream on our Facebook page and website.
Our wonderful Chancel Choir and Chancel Ringers (handbells) will be joined by two special guests: the Touring Choir of the Lehigh Valley Charter High School for the Arts, and the Grammy-nominated Choir of St. Tikhon's Russian Orthodox Monastery.
This concert is always a highlight of the Advent/Christmas season, but the addition of the Orthodox choir is a wonderful opportunity that you will not want to miss; I hope to see you there!
Grace and Peace,
J.C.