A MESSAGE FROM THE REV. J.C. AUSTIN: WE HOPE YOU WILL JOIN US!
Christmas is almost here! The busyness of the season is in full swing, I know, and that is certainly the case here at First Pres over the next few days.
But in the midst of that busyness, I hope that you will both seek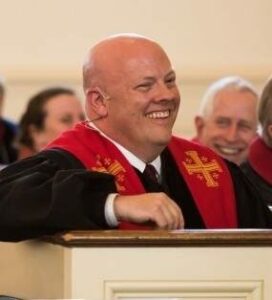 and find time for reflection, celebration, and simply "being" with others rather than being swallowed by all the "doing" that tends to happen at this time of year.
To that end, there are several special opportunities to do just that in the life of the church over the next few days, and I want to encourage you to take advantage of those as Advent comes to a close and the Christmas celebrations begin.
This Sunday is the fourth and final Sunday of Advent, of course, and we will be observing that in the regular worship services Sunday morning. And I don't want to move too quickly past that, which is tempting throughout Advent, but particularly as Christmas draws so close.
After worship services on Sunday morning, though, we begin moving into Christmas. That begins on Sunday afternoon at 4 p.m. with the Christmas Joy Concert offered by the Chancel Choir. They will be joined by the Touring Choir of Lehigh High Charter Arts High School and the Concord Chamber Singers. This is a festive and beautiful offering for which our choir has worked long and hard in preparation; it will be a wonderful way to pivot towards Christmas, and I hope you will make a special effort to join me in attending.
On Wednesday, December 21 at 7 p.m., we will have our annual counterpoint to the Christmas Joy Concert, which is the Longest Night Worship Service. It is literally on the "longest night" this year, but the title is also metaphorical in the sense of the challenges of the Christmas season for anyone who is experiencing any kind of loss or grief, whether that is a new development or an ongoing reality. It is a contemplative service, held in Fellowship Hall, and creates space for both mourning and hope in the context of Christmas. It is a particularly meaningful service and I encourage you to make space and time for it if you are at all able.
And finally, I want to remind you that our Christmas Eve schedule is a bit different this year: we are having two services, not three. The Intergenerational Service is at 4 p.m., and the Traditional Christmas Eve Service is at 7 p.m. Both take place in the Sanctuary and include candlelighting and a brief sermon. And since Christmas Day is on a Sunday this year, we will be having a special Christmas Celebration Service at 10 a.m. in Fellowship Hall. This is very much a "come-as-you-are" service, and that includes Christmas pajamas!
It will be an intentionally intergenerational service with Christmas carols and stories, and even a visit from a special guest who plans to join us; we are grateful that he's willing to come after what will have been a long and VERY busy night of important work for him…
I look forward to being in worship with you during this special time if you are in town (or can participate digitally*); if you are traveling, know that you are in our prayers as you do so, and I hope it is a merry and blessed Christmas for you wherever you may be!
Grace and peace,
J.C.
*NOTE: The Christmas Joy Concert, Longest Night Service, Christmas Eve services, and Christmas Day service will all be offered as livestreams on our Facebook page and website.