A MESSAGE FROM THE REV. LINDSEY ALTVATER-CLIFTON:
LEARNING THE LANDSCAPE
Greetings, friends!
This Sunday, we have our last Linger & Learn of the summer.  Following worship, we'll be welcoming Pamela Cho, Vice President of Early Learning Resource Centers for Community Services for Children, to learn more about the challenges and opportunities around affordable, accessible childcare.
This will be offered live in the Sanctuary, and also livestreamed on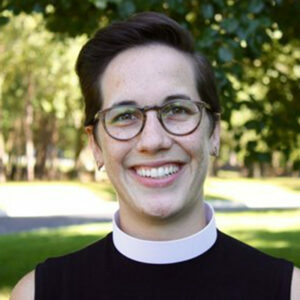 Facebook and our website (the livestreamed service will be ended, and then we'll start another livestream for the Linger & Learn).
While Pam and I will share more on Sunday, I thought I might offer a few notable pieces of data here as a starting point:
In 2022, workers in Pennsylvania's childcare industry earned $556/week on average. That's a wage of $13.90/hour.  In Northampton County, the median wage was even lower:  $11.84/hour.

In 100% of the 67 Pennsylvania counties, earnings for childcare workers failed to meet the cost of living. In other words, earnings are not sufficient to cover basic necessities like housing, transportation, food, and childcare.

Approximately 21% of early childhood educators in our state relied on SNAP benefits and 21% were insured by Medicaid. (This is the case even though most have a college education.)

As a result of these economic challenges, Pennsylvania's childcare system has a staffing shortage resulting in more than 35,500 children sitting on wait lists, which can make it difficult for families to find reliable, quality care, and to work.
Another challenge for parents is the cost of childcare: in 2022, the median cost of childcare in PA was $339/week per child. At that rate, the annual cost for one child is $17,628.  Those costs are often higher for infants and toddlers than for preschoolers and higher at top quality programs as well, with a maximum cost of $894/week.
As you can imagine, these economic realities are incredibly challenging for working families with children, especially those with single parents or aging grandparents as the heads of household.  The impact is even more acute when combined with our area's high housing costs, as well.
We have a great deal to learn about the landscape around this particular community need, and I'm eager for us to continue exploring how we might have a positive impact!
Forward together, y'all.
Lindsey