A MESSAGE FROM THE REV. J.C. AUSTIN: CRAWLING BEFORE YOU WALK
When people have a baby, lots of attention is focused on "firsts": first steps, first words, and so on. And as any parent will tell you, once babies get mobile, everything changes, so all those milestones towards independent walking are at least as important as verbal communication!
In terms of walking, the first real stage of development is crawling.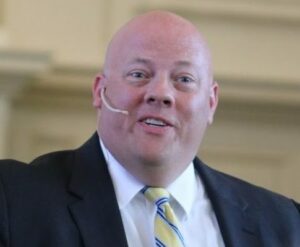 In fact, crawling is the start of any real development towards mobility; it not only builds the necessary muscle, motor, and brain functions for the child to be able to walk, but it also builds a sense of balance and develops skills in problem-solving and navigation. As the saying goes: "you have to crawl before you walk," and this is why.
I say all this because the Bethlehem Interfaith Group ("BIG"), of which First Pres is a founding member, is holding its second "Faith Crawl" on Sunday, May 15, from 3-6 p.m. and the deadline to register for this event is this coming Sunday.
The name "Faith Crawl" originated in "Pub Crawl" activities, in which a group of people go from one pub/bar to another in a given area in order to see what their offerings and ambience are about and to learn what sets them apart from one another and what that tells you about your own preferences.
Similarly, the BIG Faith Crawl takes a group of people to visit four faith communities here in Bethlehem, learn what their practices, beliefs, and life together are like, and what that tells us about our own tradition and commitments in the process. But I think, in addition to the "pub crawl" analogy, crawling as a developmental stage is an important metaphor here.
One of the more urgent public tasks for people of faith these days is greater understanding and appreciation of one another to both reduce conflict and enhance our capacity to collaborate in working for good in the world. That collaborative work is the "walking" and "running" of multifaith partnerships; understanding and appreciation of one another is the "crawling" that helps prepare us for that.
So, I hope you can join this Faith Crawl on May 15, which means you need to sign up to do so by this Sunday, May 1 using this link. The inaugural faith crawl was before the pandemic; this one will include visits to Muslim, Jewish, Methodist, and Quaker communities. We will travel between the communities by bus, which is why pre-registration is so important.
If you are ready to walk rather than simply crawl, then I want to also direct your attention to the upcoming BIG Community Day of Prayer on Thursday, May 5, from 4-5 p.m. at Payrow Plaza in downtown Bethlehem.
There is no need to register for this event, so you can simply show up, but it is a powerful experience of multifaith collaboration and solidarity as we lift up the needs of our community, our peoples, our nation, and our world in prayer out of the various traditions that are represented in this work.
It has been a powerful experience over Zoom previously, but being able to stand together physically while coming from different traditions will be even more so, I think. So I encourage you to be a part of that event and common work, as well.
As you know, one of our Core Values as a congregation is living out "An Active Faith," and this is a wonderful opportunity to do so with like-minded people from many different traditions. I hope you can be there, too!
Grace and Peace,
J.C.