One of the most popular genres in movies is the buddy cop film. It's so popular that there are literally dozens if not hundreds of examples, but there is an astonishing consistency between them.
In basically every buddy cop movie, there are two cops who are wildly different people that, for some reason, are forced to work together as partners. Usually one of them is a buttoned-down, by-the-book sort of officer, while the other has an unpredictable personality and is happy to break any rules to get the job done. Often those differences are intensified by their respective racial, ethnic, or cultural backgrounds, or being from different generations.
Early in the film, they are deeply at odds with one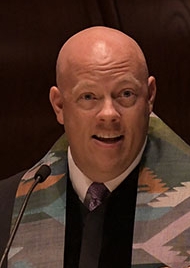 another over work styles and perspectives about the world. But as the film goes on, they each begin to appreciate what the other brings to the partnership, and they form a deep bond that ultimately helps them solve the case and beat the bad guys.
But strangely, one of the best examples of the buddy movie is a classic movie from the 1950s called The Defiant Ones, and the two partners in the film are not cops, but convicts. Specifically, they are convicts, one Black and one white, who are literally chained together on a chain gang in the Deep South.
When the truck transporting them from work crashes, they are able to escape, still chained together. When the prison guards discover they are missing, one says they had been chained together because the warden thought it was funny to do that to two men who each hated anyone from a different race, and they shouldn't bother looking too hard because they will probably kill each other within the first five miles.
The guards are right about them hating each other, but the two convicts realize that they will not be able to succeed or even survive without the other, so they grudgingly begin to cooperate out of mutual self-interest. But as they do so, enduring difficult terrain and weather, they begin to realize they have more in common that they would have imagined, and even begin to like each other.
Eventually, they are able to spend a night with a woman whose husband has abandoned her and her son. While they are there, two important things happen. First, they are finally able to break the chain that shackled them together. Second, the woman is attracted to the white man and convinces him to run off with her. She suggests that the Black man make his own way through a nearby swamp, and which leads to railroad tracks where he can hop a train to escape.
After the Black man leaves for the swamp, though, the woman reveals to the white man that she lied and sent him into the swamp to die in its hidden dangers so that he can't reveal their own escape plans if he is caught. Outraged, the white man leaves the woman, her son, and their easy escape plan, and instead runs after his friend to warn him.
There is more to the film, but I don't need to spoil it if you haven't seen it in order to make the point. And the point is that true partnership is not transactional; it is not just about working with someone else to achieve the result that you desire. True partnership is about the relationship itself and the impact it makes on us, often changing our perspectives not only about the other, but about ourselves and the results or goals that we wanted in the first place. Transactional cooperation helps us get what we already want; authentic partnership transforms who we are and how we act in the world.
The difference between transactional cooperation and authentic partnership is at the very heart of this somewhat strange letter from Paul to Philemon. There is perhaps no kind of relationship that is more toxically transactional than that of an enslaved person and their master. First century slavery did not have the utterly depraved dynamics of chattel slavery in the United States, in which enslaved people weren't considered people at all, but rather the property of their master along with all their descendants.
First century enslaved people retained their status as human beings, but they were robbed of their freedom to disobey their master or leave their master's service voluntarily for the duration of their enslavement. So, regardless of how much fondness the master might feel towards the slave, regardless of how well they treated their slaves, it was still utterly transactional: the master ordered, and the slave obeyed; there was no mutuality in the relationship at all.
In this letter, Paul is writing to Philemon, a leader in the Colossian Church, who was also a slaveowner. More specifically, he was the master of a slave named Onesimus, and Onesimus is the reason for the letter. Now, Paul is being uncharacteristically diplomatic in this letter, so it can be a little hard to track what he's saying.
But essentially, it seems that Onesimus ran away from his master, Philemon, and made his way at some point to Paul, where they developed a mutual rapport and Onesimus became a Christian believer. Now, Paul wants to send Onesimus back to Philemon, but as a very different person than he was before: "no longer as a slave," Paul says, "but more than a slave, a beloved brother."
That's quite a bit to ask: Paul doesn't want Philemon to just accept Onesimus back into his household; Paul wants him to accept Onesimus back into the church that meets in that household, accept him as a brother in Christ, an equal, a fellow co-worker in the gospel. He wants Philemon to set Onesimus free, in every sense of the word. Paul says, "formerly he was useless to you" (there's nothing more useless to a slaveowner than a slave that has run away), "but now he is indeed useful both to you and to me."
That may still sound pretty transactional, but Paul is playing off of Onesimus' name, which literally means "Useful One." Paul wants Philemon to take Onesimus back and set him free so that he can accept his identity, his usefulness, not in slavery, but as an equal and free partner in the gospel.
For Paul, freedom is always a loaded word. Paul does not, in any way, believe that human beings are ever free in the sense of autonomous creatures with full personal agency and an independent will. When Paul talks about freedom and liberation, he means being freed from the things that shackle us to the powers that are in opposition to God's will and seek to separate us from God: all the powers of sin, evil, and death.
But when we are freed of those powers, we are not free for ourselves. Rather, we are free to be bound to Jesus Christ, not in chains of slavery but in cords of love and grace that cannot be severed. That's why Paul introduces himself in this letter not as an apostle, as he usually does, but as a "prisoner of Christ," meaning that he has been captured and claimed by Christ precisely to be free to partner with others in sharing and living out the gospel of Jesus Christ.
True partnership always involves mutual transformation in community, even if that community is just one individual to another. And true partnership in the gospel is always about working together for that transformation with and for each other and the world. It requires us to be humble about our own role and resources, and to be open to the gift and leadership of the other.
Clinging to hard notions of one party being the giver and the other the receiver, one party needing and the other providing, eliminates the possibility of any true partnership because it splits the relationship along the fault lines of status and power and resources rather than connecting through a recognition that we are all in need, and we all have power; we all have something important to contribute, and something important that is missing; we all have the opportunity to live in freedom, and we all have chains that need breaking.
There is a quote that is often attributed to Lilla Brown, an Australian Aboriginal activist, that speaks to this. It says: "If you have come here to help me, then you are wasting your time. But if you have come because your liberation is bound up with mine, then let us work together." It's a popular quote that shows up in everything from memes online to collections of famous quotations, because it is the perfect antidote to what is often called "toxic charity," in which one party is the giver and has nothing to receive or change, and the other party is the receiver, and has nothing to give.
What's really interesting is that Brown herself does not appreciate having the quote attributed to her. Rather, she was the first person recorded using it in a speech, but she says the quote actually arose organically from within the community working on Aboriginal rights in Australia of which she was a part, and therefore does not "belong" to her. So even a quotation about partnership is often used in ways that fail to acknowledge the full power of partnership!
What Paul is telling Philmeon, and all of us, is that the gospel is not ours or anyone else's to have and distribute or hold back as we see fit; it can only be shared. So if we are going to be "useful" in sharing the gospel, we have to really share it, share it in and through partnership with others.
And when we answer that call, in word and in action, with partners whom we share much in common with and with partners who are very different from us in many ways, then we are not simply more effective, but more faithful, because we allow the sharing of the gospel to transform ourselves at least as much as our partners and the world, so that its light may shine out all the brighter into this world God loves so much.