By The Rev. J.C. Austin
A few weeks ago, the ace starting pitcher of the Baltimore Orioles, John Means, exited suddenly in the middle of the game with elbow problems. After a series of tests, it was determined that he required what is known in baseball as "Tommy John surgery," in which a ligament in the elbow is replaced. He is expected to miss the rest of the 2022 season and probably the first part of 2023 because of the time needed for recovery and the subsequent rehab for his arm.
"I'm obviously disappointed, but more motivated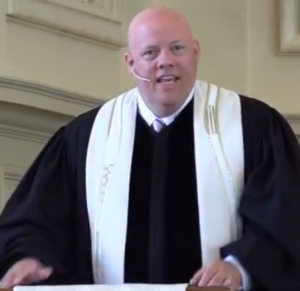 than ever," Means tweeted after the announcement, which seems like the expected response under the circumstances. Well, at least these days, when Tommy John surgery is so common that almost a third of all major league pitchers have had it at some point in their career.
That was most definitely not the expected response when Tommy John himself, for whom the procedure is named, injured his elbow in 1974. The expected response then was, "I'm obviously disappointed, but I have to announce my retirement from major league baseball."
That's because no pitcher had ever recovered their form after such an injury until Tommy John. He was an All-Star pitcher in the late 1960s and 70s and was the best pitcher in the league at the time of his injury in the 1974 season. When it became clear that other treatments were ineffective and his career was in jeopardy, he allowed the team physician to attempt a surgical procedure that had never been tried on a major league pitcher before, replacing the injured left elbow ligament with a tendon from his right forearm.
Surgeries in general on pitchers' arms usually meant the end of their career, and this surgery had never even been tried. His arm was in a cast for four months, and when it was taken off, his hand had become shriveled and several fingers had no feeling in them; it was difficult to even pick up a ball, much less throw a major league quality pitch.
For six months, he worked at it every day; a devout Christian, he repeated Luke 1:37 to himself as he did: "For with God, nothing shall be impossible." And sure enough, after six
months, the feeling started to return to his fingers. By September, a year after the surgery, he started pitching in the Arizona Instructional League against prospects and low-level minor leaguers.
By the start of the 1976 season, he was back in the starting rotation for the Los Angeles Dodgers, the first pitcher ever to start a game after having such an injury. In his second
game back, he pitched seven scoreless innings, and had a successful career for another 13 seasons, including being named to the All-Star Team again.
Now, that's how things are supposed to go; that's how the story is supposed to end. Hard work, courage, and determination are supposed to make all the difference, beat the odds, turn things around even when they look the most dire or bleak. And we want to believe there's always a chance to turn things around, for us to come back, if we try hard enough. It's even true for most of the Old Testament prophets.
Even when they are warning Israel of God's judgment on their wrongdoing, the door is still left open for repentance, for turning around and coming back, for those with the determination to do the hard work of faithfulness. Isaiah warns that the people are about to be taken into exile, but also promises that a faithful remnant will return. Jeremiah foresees the destruction of Jerusalem and the exile of its people, but still urges them to repent and tells them that God will bring them back to live in their own land. Things are bad, they say, but you won't go out like this. There will still be a chance to come back.
But not Amos; Amos is different. You can see it from the second verse of today's passage. Our passage starts out with an enticing vision: "[God] said, 'Amos, what do you see?' And I said, 'a basket of summer fruit.'" Now, isn't that lovely? Who wouldn't like to be presented with a nice basket of ripe fruit harvested at the end of summer? But then God responds with one of the most shocking sentences in Scripture: "the end has come upon my people Israel," God tells Amos. Not punishment, not judgment, but the end.
Wait, where did THAT come from? Going from strawberries to the apocalypse seems like a pretty big jump. The Hebrew word for "summer fruit," qayis, means "summer" and can be used to mean fruit harvested at the end of the season.
It's not quite as confusing in the Hebrew; the words for "summer fruit" and "end" look and probably sounded almost exactly the same, so it's partly a play on words. But if this basket of harvested fruit is supposed to be Israel, then what seemed lovely is still suddenly shocking. Harvested fruit is either about to be eaten or it is about to rot away, and there's no other option. You can't put harvested fruit back on the tree. The end has come,
Amos is saying, and there's nothing anyone can do about it. And for the Israelites listening to Amos, that would certainly have been a surprise ending.
They would never have believed that God would kill off the main character in the story of God's salvation. They, too, would have believed there would always be a chance to come back, to turn things around, for things to end well, if they just tried hard enough. But Amos doesn't see any hope for that, only the end. Because Amos and his vision are so unrelenting in their condemnation and gloom, it is tempting to run away from them, to set them aside or try to water them down.
Maybe he's just exaggerating to make his point, we're tempted to say. Maybe he's articulating a theology of God's wrath that, conveniently for us, is overriden by the Christian theology of God's gracious and reconciling love. And yet we acknowledged a few minutes ago when Marie read these words that, however mysteriously, somewhere in here is the Word of the Lord, and we even gave thanks for it. That means that we, too, need to answer God's question about Amos' vision: "What do you see?"
Well, first of all, we see that Amos thinks God has plenty of reasons to be angry. The people of Israel are making a mockery of their identity as God's people. They complain about having to observe God's holy days because they get in the way of profiting even more from their corrupt business practices and their exploitation of those who are vulnerable. He argues that their greed is so boundless that they literally dehumanize those who are poor, valuing them on par with a pair of sandals. Amos is telling them that to God, such treatment of other human beings is not only wrong, it is blasphemous, a desecration of the image of God which every human being bears. And that must end.
Amos is also clear that the problem here is not about certain individuals or even group; it is a systemic problem, involving the whole society and its economic and social structures which are built and carried out by humans. That's not something we like to talk about very much; it's much easier to chalk such things up as "that's the way the world works," as if we
have nothing to do with establishing or maintaining such things.
At the end of The Mission, a film set in colonial Brazil about Jesuits working among the indigenous people of a mountain region, an envoy of the pope is talking to Portuguese officials. The Portuguese wanted the Jesuits out of Brazil because they were protecting the local people from the slave trade. The envoy had failed to convince the Jesuits to leave on their own, and finally he renounces the mission to placate the Portuguese government.
With the church's protection gone, Portuguese soldiers storm the mission, kill the Jesuits and many of the local people, and round up the rest as slaves. Having learned what happened, the envoy challenges the official. The official shrugs his shoulders and says, "We must work in the world. The world is thus." The envoy looks at him. "No," he says slowly, "thus have we made the world." He turns and whispers softly to himself, "Thus have I made it."
The papal envoy recognized the truth that we are so often so unwilling to see: that the world is the way it is not because it simply "is," but because we, human beings, have made it that way. Sure, sometimes we make clear individual decisions that contribute to building such a world. But far more often, whether out of resignation or we simply collude with one another in accepting a society that makes injustice seem inevitable and makes the
abundance of love and mercy and community that God intends for us seem impractical or even irrational.
As we have all been reeling in response to the recent mass shootings in the United States, and particularly the one in Texas this past week, the debate often seems to be about the merits and problems of various policy responses to prevent such senseless violence in the future, from gun regulations to mental health treatment to school security resources and
procedures, not to mention the egregious police response failures that have been coming to light. And most of the arguments are about one side proposing something and the other side protesting that proposal because it "won't change anything."
Which is why I think the real issue that we have to confront is this fundamental question of what we believe about the world. Is this simply how the world is, and we just have to learn to live with that? Or is this how we, intentionally or not, have made it, and therefore what's wrong can be, to at least some extent, unmade?
It's clear that Amos comes down in the latter camp. Amos would argue it is hopelessly naïve to think that the ways in which we structure our lives together as a society can be somehow separated from our God-given obligations to care for each and every human being as a creature of infinite worth; to love our neighbors as ourselves. Amos is clear that a world that ties to separate those things is not the world as God created it; it is conceived, made, and maintained by human beings.
And it makes God angry. Now, you will often hear people say, "I don't believe in an angry God, I believe in a loving God." It is usually a reaction to the church's long and sad history of manipulative, coercive, and even abusive preaching about God's wrath and our damnation if we do not "find God." But, interestingly, Amos doesn't even think finding God is an option anymore: "They shall wander from sea to sea, and from north to east," he warns just after our passage today; "they shall run to and fro, seeking the word of the LORD, but they shall not find it."
But there, finally, is good news. Amos doesn't realize it, of course, and he certainly doesn't intend it that way; he thinks it is God cutting off the last escape route to reconciliation, ensuring only judgment and death. But he does not know the whole story, and he would have been very surprised at the end that God has planned. The good news here, the surprising end that Amos cannot see, is that God makes sure that there is no way we can find God's word on our own…and then God sends God's Word to find us, in Jesus Christ, the Word made flesh. Now, that doesn't mean God doesn't get angry. Like any parent who loves their children, God gets angry when we mistreat each other, harm each other, refuse to care for and protect each other. It is precisely because God is a loving God that God is an angry God, angry and loving enough to invade our world and start breaking apart the things that we have made: hatred and violence, greed and exploitation, anything that offends God's righteousness and grace and justice and love.
But God's anger does not manifest in a grand and sweeping wave of destruction to end it all, as even Amos expected; nor in an exasperated withdrawal of leaving us to the world that we have made. Rather, God makes the surprising choice to patiently cultivate new life within and between each of us, planting you and me and tending us, each one of us, as seeds of the kingdom that continue to take root, and grow, and bear God's fruit, so that this world can taste and see that the Lord is good.
That's how things are supposed to go; that's how the story is supposed to end: "for with
God, nothing is impossible." And that is what God is up to in the world rightnow, with each one of us entrusted with God's words to speak, and God'sactions to take, and God's fruit to bear and to share in a world that continues to starve for that sweetness.