A MESSAGE FROM THE REV. J.C. AUSTIN: A Ministry of Rejoicing and Weeping
This Sunday is Mother's Day, which is not a Christian holiday, but it is a significant cultural holiday. Doubtless you've been inundated with all the ads touting various products as "the perfect gift for Mom," or special discounts on flower arrangements, and of course the stores are filled with Mother's Day greeting cards. Many families are planning special celebrations for the mothers in their lives.
And it is wonderful and important to take time to celebrate the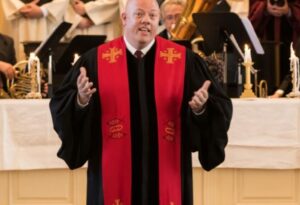 mothers in our lives who have given so much of their time and energy and love to ensure the health and well-being of their children. So if you are able to reach out and express special love and gratitude to your own mother or to mothers of one kind or another in your life, I encourage you to do so this Sunday!
At the same time, precisely because of all that attention and celebration, Mother's Day can be a very difficult day for many people. There are those whose relationship with their mothers is a source of conflict, emotional pain, or even abuse. Being constantly urged to celebrate such a relationship is itself then a source of pain or trauma.
Then there are mothers who are estranged from their children, for many different reasons, and who mourn that estrangement. There are children who are grieving the death of beloved mothers, so Mother's Day gets wrapped up in that grief; there are mothers who are grieving the death of their children, which makes the day particularly painful.
And there are women who want to be mothers but are not, whether because of life circumstances, fertility issues or because of miscarriages (which bring their own unique and often unrecognized grief) or life circumstances.
As Christians, we are called to "rejoice with those who rejoice, and weep with those who weep" (Romans 12:15). I want to suggest that verse as the lens through which we view and understand Mother's Day as Christians. For many, it is and should be a day of rejoicing in good and faithful mothers, and we can and should join in those celebrations as part of our pastoral ministry.
At the same time, there are many who are weeping on Mother's Day, and we have a responsibility to join in that at least as much as in the rejoicing, so that members of Christ's Body are not weeping alone. So this Sunday, in the Prayers of the People, we will hold those who rejoice and those who weep in prayer.
And I encourage you, in your own lives, to find ways to be in a ministry of both rejoicing and weeping with those around you as well, so that we may share Christ's love with those who are in particular need of it, in times of joy and times of sorrow.
Grace and Peace,
J.C.